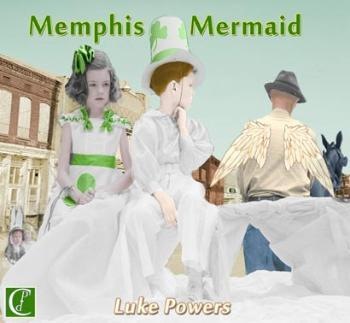 Luke Powers has a Ph.D. in songwriting—actually in English, but he's built a reputation as an original Americana songwriter drawing comparisons to Warren Zevon, John Prine and James McMurtry.

Memphis Mermaid (2012) is his fifth solo release.

The Nashville resident takes inspiration from his sister city in his latest work.

"There's a real mermaid," he explains, "though I'm not sure how she ended up in Memphis."

The song cycle revolves around the famed City by the Bluff, home to Elvis, Sun Records and Stax/Volt, but also the city where Martin Luther King, Jr., was assassinated, and Elvis imploded in Graceland.

"Memphis is a microcosm," Powers muses, "of living in the aftermath of the American Dream."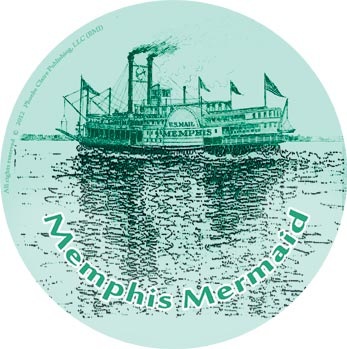 Once a melting pot of races and musical cultures---blues, R&B, rockabilly, soul and rock-n-roll—the city now has one of the highest murder rates in the country and suffers from insoluble problems of racial division, social inequality and urban blight.

Powers recalls the legend of the Chickasaw, expelled by Andy Jackson and Memphis' founders, who cursed the ground upon which city was laid out.


"But who knows," Powers adds, "maybe the mermaid is the miracle that will turn things around."


Miracle or morass? The songs explore both visions of Memphis and America.


The CD opens with an trainbeat-driven "Trainssong" that shouts out Memphis' rockabilly roots. "Memphis Belles" combines an upbeat tune with downbeat message: "Drugs, gangs, girls, guns/rape and murder just for fun."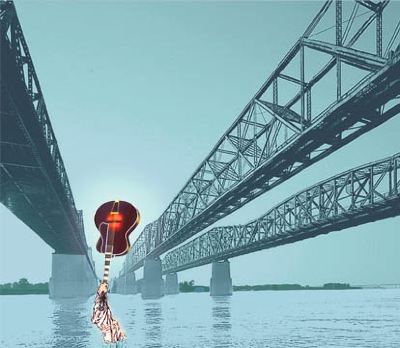 The title song "Memphis Mermaid" records a close encounter of the Mississippi kind, and "Confederate Air Corps" tells the true story of the South's famed glider company. The CD also explores "mermaids" such as the transgender tween "Jacqueline" and Picasso's "Girl with Mandolin."


The CD features Chris Leuzinger (Garth Brooks, George Strait) on guitar; Michael Smotherman (Glen Campbell, Roger Miller, Captain Beefheart) on keyboards; Tim Lorsch (Goose Creek Symphony) on cello, mandolin and fiddle; and Tommy Spurlock (Emmylou Harris, Rodney Crowell, Highway 101) on steel guitar.


Suzi Ragsdale (Ray Stevens, Guy Clark) sings harmony vocals—offering the mermaid a human voice.


Bradley Hartman (Willie Nelson, Emmylou Harris) mixed and mastered the CD at Austinwerks Sounds in Austin, Texas.


"I don't want to sound like I'm down on Memphis," Powers emphasizes, "any more than I'm down on reality. It's an incredibly 'real place' but with a mythic pull as strong as the river. Every musician goes to Memphis in one way or another. Some sell a million records, some jump off a bridge."


"I've been to Memphis," he closes, "and I think I saw the mermaid—or one helluva catfish."


MUSIC VIDEOS

Some folks like the moving pictures with their music. Luke has collaborated with Italian filmster Arturo Zapanini on exciting videos with pictures that "tell the stories" of the songs.

The Texas Death Penalty Moratorium Network and a couple of bloggers have linked to the video "Texas Death Row Blues" available for mass consumption with the help of the good people at Youtube.

___________________________________________________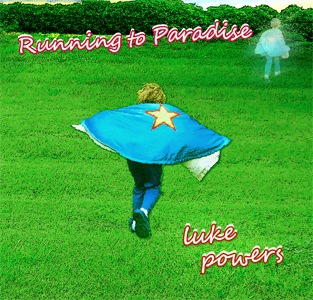 "To die a good death means to live one's life. I don't say a good life. I say a life." James Wright "Honey"

Luke Powers is caught between trying tobring it all back home and making his getaway. If the title is anyindication, it looks like he's leaning toward the latter. His new CD Running to Paradise on Phoebe Claire Records is set for release in August2009.

The college professor and Americanasinger-songwriter makes his own visit to the fabled lone countrycrossroads at midnight. Plays some guitar, sings some songs andtakes stock. The devil, in a yellow silk suit andbolo tie, makes a cameo appearance in "Running to Paradise" (thetitle lifted from W.B. Yeats).

But the album as a whole is a morelike vision quest. An attempt to reach into the timeless all withinthe constraints of three-minute songs. An attempt to sing the nowinto the Now.The songs constitute a mosaic—not anargument so much as a conversation with differing voices. Averitable congregation at the crossroads trying to squeeze somemeaning from seemingly incomprehensible experience of the mysterioushere and now perpetually vanishing before our very eyes.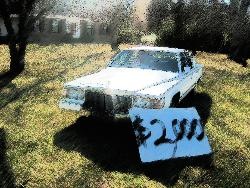 Or if not incomprehensible, then too often mute. As Powers sings in "The Great Awakening": "It's not nostalgia, or a memory,/it's just a voice we all hear even if it doesn't always speak." At times the quest becomes comic as in "Johnny Rotten Come to Jesus Now." At other times, pure mystery: in "The Getaway" the move from physical to metaphysical is as simple and tangible as striking a match on the grave. On the face of it, "Runaway Drive" is the singer's bluesy elegy to a car peppered with bullet-holes abandoned on the highway side; but the song becomes more about the act of imagining: the singer's thoughts drift to "money, sex and murder" and he wonders, hopes, if vanished couple are still on the run.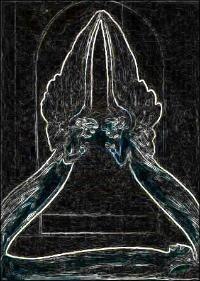 A similar idea propels "The Real Elenor Rigby" which does not rewrite the Beatles' classic, but rather turns the table on songwriter Paul McCartney. It offers a version of Eleanor's story (lately come to light due to a hospital record donated by McCartney himself to a British charity) not a tragedy or even triumph. But simply as a life. A life perhaps patronizingly belittled in the famous song. But a life which E. Rigby lived and struggled and died—but maybe not so alone after all.

A life. What more can the artist or the humble songwriter confirm? Witness? Admire? "Dahlia"--on the famous "Black Dahlia" of 1940s L.A.--admits into evidence the horrific murder, but bends toward a transcendence of those unspeakable facts. The life vibrating from the famous black-and-white glossy smiling promo photo of the twenty-two-year-old girl.

Luke says, "I had nightmares for days after seeing the pictures from Black Dahlia crime scene. I felt compelled to write this song in a feeble attempt right the wrong done her. I wanted to honor the living soul not the tortured body."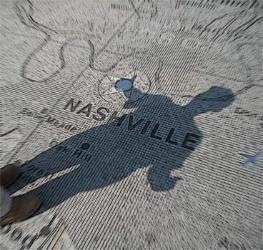 There is even a song about math. Lord William Rowan Hamilton, 18th century discoverer of the "quaternion" or four-dimensional mathematics, is remembered for his "genius flash" in which the famous equation came to him as he strolled by Dublin's Broome Bridge (where he scrawled the notation into stone lest he forget).

Is the quest successful? Does the vision cohere? Like life itself, the songs of Running to Paradise are more a set of questions than answers. Perhaps the best answer comes from poet James Wright: "I say a life."

But listening back to them, Luke admits: "I've listened to these songs a hundred times during the recording and mixing. But there are still times when I listen where I forget where I am in the song. Just for a moment there's a beat and bass riding and guitars fiddling and fiddles droning and voices humming and a steel guitar singing like another world and you realize you stumbled into something timeless."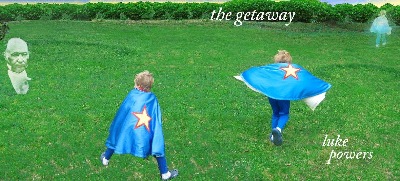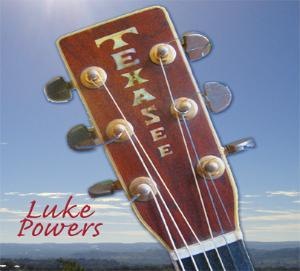 A state of mind . . . . somewhere between Spicewood TX and Franklin TN.

Luke Powers and Tommy Spurlock have collaborated on another record Texasee, to be released in October of 2008.

Luke and Tommy have previously worked on Kakistocracy (2006) and Luke's debut album Picture Book (2007).

Picture Book is the portrait of the artist as a young songwriter. Texasee is an Americana homage to a mythical land of music and imagination stretching (in the words of the title song) "from the mist of the Smoky Mountains to the dust of the hill country."

Luke is a Nashville-based college professor who writes songs. He has degrees from UNC-Chapel Hill (where he was a Morehead Scholar) and Vanderbilt University.

Tommy is a professional musician who has worked with Rodney Crowell, Roseanne Cash, The Band and Highway 101. He has produced artists such as Rick Danko, David Olney and Chip Taylor.

Texasee is a mostly acoustic Americana album with a little sling-blade thrown in.

"I tired of all these warbly, navel-gazing 'Americana' songs," Luke says. "I wanted to take a more Sam Peckinpah approach."

"Billy the Kid Rides Again" resurrects the fabled outlaw who shoots a highway patrolman for stopping him for riding his horse without a license plate.

"The Tower" focuses on Charles Whitman's 1966 shooting spree at UT-Austin, which took the lives of almost fifty people.

In addition to the Coen Brothers' mayhem in songs like "I'm Too Young to Die" and "The Bounty Hunter," Texasee does reflect the gentleness and beauty of its half real/half mythic land. Songs such as "Tops of the Trees" and "Tomorrow" offer a glimpse of redemption from a world that while mythical is possibly real.

Somewhere between Hank Williams and Wallace Stevens . . .


Being an English professor, Luke can't resist a concept. "Texasee" is a borderland of beauty and violence, sin and redemption, materialism and imagination.

Luke told Tommy that he originally wanted to call the album Thirteen Ways of Listening to Hank Williams. Tommy told him he was crazy. Actually he was more explicit than that.

Bradley Hartman (engineer for Emmylou Harris, Willie Nelson) mixed the project.

Bradley, who was born in Houston, spent time in Austin and currently lives in Nashville, was more amenable. He said he'd live in Texasee if he could get a gig there. (BTW, Bradley engineered Willie's Stardust album—is there a better sounding record?).

Bradley was also responsible for bringing Suzi Ragsdale on board. Suzi (daughter of superstar Ray Stevens and a star in her own right) initially planned on singing a couple backup vocals. But her presence quickly transformed her parts into full-fledged duets.

Luke says, "She's the soul of the album."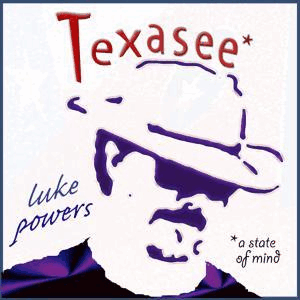 Also bringing a unique sonic warp to the sessions were Sam Powers, Luke's brother, and John Davis, who had formerly teamed in the powerpop band Superdrag. Sam and John played sang, played basses, guitars and anything else they could get their hands on.

John was even willing to play sousaphone if Luke could get his hands on one.

Kenny Vaughan, Americana Music Association "Instrumentalist of the Year" for 2007, added his signature guitar touch.


For more information and free song downloads, see www.phoebeclaire.com

or http://www.indie-music.com/bands/bands/6709/music.php


For Luke's ramblings and to contact go to myspace/lukepowers

or become his Facebook friend at http://www.facebook.com/home.php#/profile.php?id=1577452087&hiq=luke%2Cpowers